Making sure that your business has an online presence through business listing is crucial to bringing traffic to your store and website.
There are a few factors that can help you enhance these online features in a multi-dimensional way. From developing SEO (Search Engine Optimization) to social media, marketing can be a fun and exciting way of driving traffic to your business.
However, there are some fundamentals that need to be established before moving onto the more exciting parts of marketing. 
One of these essential components is paying attention to online listings.
What are online listings?
An online business listing is simply where you list your business' information so that potential prospects can find you online. The sites available for these online listings are Google, Yahoo!, Yelp, Bing, and other online directories too.
Google my business is one of the most frequently used platforms for online listings.
What information do online listings need?
Online listings usually require a minimum amount of information about your business. For example, key information like name, phone number, and address. 
However, in order to stand out from the crowd and build brand trust to attract potential customers, you must ensure that detail is incorporated into your listings. This is because customers are more likely to choose you for their product.
For example, ensuring that all information available to complete in the listing is filled out is a fantastic way to make your business look trustworthy and professional too which helps to verify your business online as well.
I have multiple business listings. How can I manage them all?
Vicinus.ai can help you out with that. The software allows you to manage business listings from a central platform with real-time management of all your locations from one easy-to-use platform. 
It allows you to help customers find only up-to-date and consistent information about your brand which promotes a trustworthy brand.
Why are business listings important?
As mentioned briefly above, business listings are important for building your brand trust as well as driving traffic to your business too.
Below are the top ways that listings are important for your business:
1. Accuracy and Consistency Across All Channels
The more uniform your listings across your platforms, the better your business looks to potential customers as well as to the search engines themselves.
With a detailed and uniform business listing Google- or any other search engines- are more likely to return to your business listing with queries searched on their platforms
2. Accurate Business Listing Improving Local SEO
With so many different factors playing a part in SEO, you must ensure that all of the basics are taken care of for your website to get higher rankings.
One of these basics is, you guessed it, business listings. 
Optimising and correcting listings for SEO purposes draws traffic to your business, and aids Local SEO development.
3. Using Business Listing as Advertising 
Using listings in your advertising or marketing strategy allows you to be very specific about your business. This, in turn, allows you to create a targeted audience based on all of the information you have supplied in your listings.
Local listings also allow you to attach social media too which aids brand growth and raises awareness for the various platforms your brand is on.
What are the best ways to manage my online business listings?
There are a few ways to optimise your listings online.
1. Find the hot spots in your industry
Taking the time to identify the citations your target audience is finding while searching for a business like yours is a brilliant way of optimising your listings.
The way to do this is by searching for your business in a search engine and then seeing the types of results that appear. 
Once you have an idea of the information that your competitors are using, start acting on these in order to optimise your own listings.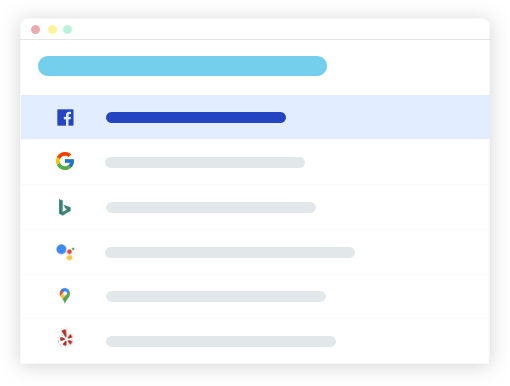 2. Claim your Business Listing
By claiming your listings, you can take control of the information about your business online. 
Claiming your listings also means that you can manually update your listings. You can use photos, updates about the business, promotions on products, and others to optimise this. This will enable you to drive more traffic to your website too.
With Vicinus, you can also auto-trigger offers, posts, events, alerts on Google.
Leverage automation to manage multi-location offers across platforms to attract more customers in their buying mode. 
3. Encourage Social Interaction
Social interactions have a positive effect on your search results. By encouraging social interaction around your listings can improve your chances of providing genuine information online to your potential customers. 
For more information regarding optimisng your listings, check out the video below:
Or feel free to drop us an email at contact@vicinus.ai if you would like to learn more. Alternatively, visit our website to find out more about Vicinus!